What to consider when using video as part of your digital communication strategy
Is your business part of the 81% of all businesses that use video as a communications tool? (Hubspot). More than ever, preference for the written word is declining. Audiences that are pressed for time or even intimidated by reams of text are choosing video as their primary medium for accessing information.
What are you doing to prepare for the fact that by 2022, online videos will make up more than 82% of all consumer internet traffic — 15 times higher than it was in 2017. (Cisco)
At The Tantalus Group we have doubled down on our efforts to use video to share our expertise with businesses around the world.  As a global management consulting firm we love how video can help current and potential clients relate with our communications and management experts. Video blogs are in the pipeline and archival video webinars are letting us share our expertise with a broader audience. We believe video is an essential part of a digital communication strategy and corporate communications in general. with that in mind here are some key things to keep consider when using video in your digital communications strategy.
What to consider when using video in your digital communications strategy
Build trust – put a face and voice to your brand.


If you are in a relationship business where trust is paramount (almost any business these days) putting your key people in front of your stakeholders and potential stakeholders with video is an information rich and trust rich communications method. Video inherently communicates that you have nothing to hide.

Make an impression quickly. 


In a content heavy, attention light society, a well produced video helps the viewer discern that you are professional, modern and likeable within a few seconds. You can non-verbally build trust and goodwill on a different level and at a much faster rate than with the written word.

Additional time related tips:


Make sure your name and logo appears in the first few seconds of the video, you never know when a viewer might lose interest.


The maximum video length for Instagram is 1 minute and 15 seconds for Instagram Stories.


Benefit from longevity and reach.


Once you have some videos in your arsenal they can continue to work for you long after a spokesperson may have become worn out. The reach of video is border-less and you will find multiple opportunities to use the content including YouTube, social media and email newsletters. When possible keep your video "evergreen" by avoiding mentioning dates or seasons.

Appeal to the Algorithms
Attention-based businesses (Google, Facebook, Instagram) love video as it increases the time on site for their audience. To incentive you to create more video content they are willing to share more of their/your audience. For example, an Impulse Creative study found that, Facebook video posts reached 90% more people than link based posts and 40% more people than photo posts.

Anecdotally, a recent Instagram Stories campaign for a client produced far greater traffic and engagement than in-feed photos and text.

Reach a bigger audience. Reach a different audience


While blog posts, newsletters and podcasts may appeal to a certain type of person, video may be perfect for extremely busy or younger "digital native" audiences.

Your video can speak volumes, even with the volume turned down.


According to Digiday (2016), 85% of Facebook video is watched without sound. Make sure you have titles, subtitles and infographics that tell your story visually.
---
Watch how Tantalus recently used these tips in a recent video we are leveraging in our digital communication strategy.


---
Some more online video statistics that may surprise you:
6 out of 10 people would rather watch online videos than television. (Google)

Mobile video consumption rises by 100% every year. (Insivia)

A Facebook executive predicted that their platform will be all video and no text by 2021. (Quartz)

YouTube is the second most popular website after Google. (Alexa)

59% of executives say they would rather watch a video than read text. (Wordstream)
I am ready to help you capitalize on the power of video to communicate with your stakeholders.
Please contact me so I can look at your communication objectives and provide you guidance on how to use video to achieve you communications goals.
---
About Digital Communication Strategy expert Trevor Jurgens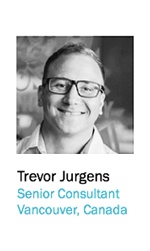 Trevor is an expert in brand storytelling for a socially networked world. He has helped organizations including the Olympic Games, Boeing, and Port of Vancouver develop policies to adapt and thrive in the age of social media and digital first communications. An educator and motivator, Trevor supports the development of executives and organizations into effective digital communicators that benefit from stakeholder amplification.
Among management consultants Trevor is known to achieve tangible transformation. He has coached hundreds of businesses beyond theory toward behavioral change.
Trevor has been a journalist for the Canadian Broadcast Corporation (CBC) specializing in trend-spotting and pop-culture. He has a Bachelor of Commerce degree from the University of Calgary. He speaks English, French and Spanish and has worked in digital media in North America, Central American and Oceania.
Contact Trevor to discuss your Digital Communications Strategy.